Magic Performance
Close-up Show
Close-up magic is a versatile and unique form of entertainment suitable for a wide range of events and occasions. It is performed right under the watchful eyes at a close distance for sitting spectators at hotels, gatherings and parties. Prince Sil can bring the real feel of magic, up close and personal, at your event. Close-up magic can be great at a dinner event, where Prince Sil will stroll from table to table performing close-up intimate magic for a small group of people. Prince Sil can also wonder around a hospitality suite, corporate booth or a restaurant. He was the first performer to perform this at star hotels since the 1970's.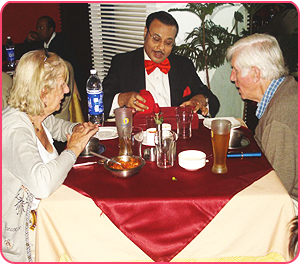 Mental Magic and Mind Reading Acts
It is specially designed for intellectual gatherings and could be a relief as an ice breaker in the midst of corporate meetings. The duration could be around 1½ Hrs and could be organised as an individual event which became very popular for top corporate programmes.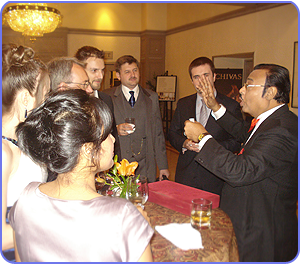 Stage Show
Stage Show (Full) :
Prince Sil's stage show can be the great ending to your event such as a school, fundraiser, festival, fair, night club, corporate event or any other type of event you can think of. Full show of 2½ hrs. with big illusions, using birds, animals and a team of skilful assistants.
Stage Show (1 to 1.5 hour) :
Same as above but with a tailored team and acts. Also this show can be customized to fit your event and your theme ideas. This show again can be made tailored for kids, family, and adults.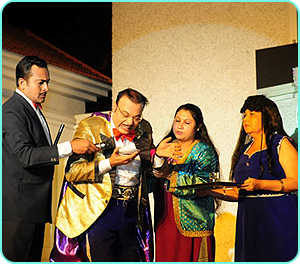 Theme Show & Product Launching
Whether it's a corporate family event or a private party for adults, Prince Sil's "Theme Magic Show" is an excellent choice! It is a high-energy performance filled with hilarious comedy, audience participation, and mind-boggling magic that will leave your guests with an unforgettable experience! These shows are built on themes on any occasion for any events from product launching & promotion to public awareness programmes.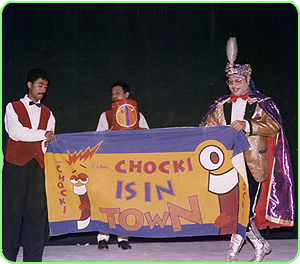 Floor Show
Colourful act at Night Clubs, floors and theatres, restaurants with a lady assistant of a duration of 20 minutes, 30 minutes or 40 minutes, as per your preference.

Here are some Questions which are commonly asked about Pince Sil's performance
What do you do in your show ?
As Prince Sil's show is ever-evolving, his effects and routines vary depending on the type of venue, size and type of audience, length of show, etc. For more detailed description of his shows, please contact our office today.

How long is your show ?
Sil's typical show is approximately 1½ hrs. to 2½ hrs. long. He has 15 to 45 minute programs available to suit every audience, budget, and occasion.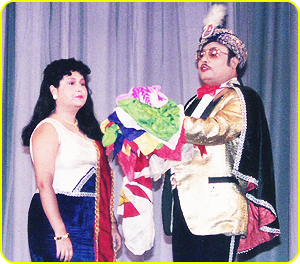 How much room do you need ?
Sil's act is fairly self-contained and requires a performing area of approximately 10' X 12' minimum to a full length stage depending on the type of shows and an adjoining green room.

What is your fee ?
Sil's fee schedule is determined by several factors: length, type, and date of show, complexity of staging, size and type of audience, venue location, etc. For faster service, please call our office.

Do you take cash or cheques ?
Sil accepts cash, cheques and NEFT. Sil's fee is to be paid as 50% in advance and the remaining 50% immediately after his final performance (Only in Cash or Cheque).

Advance :
Advance should be paid at the time of show conformation through cash, cheque or NEFT.

Remaining Balance :
For Corporate events, if it is more convenient, you may post-date the cheque for the date of the performance and mail it in advance, to our office. Another option is, you may present it to the performer just prior to the show so you don't have to worry about looking for where that cheque went or have the performer looking for you. After the show, you may be too busy with the next agenda on the programme. Of course, payment after the final performance is fine; however, please be aware that Sil is often booked back to back with shows, and may need to get to his next engagement right away.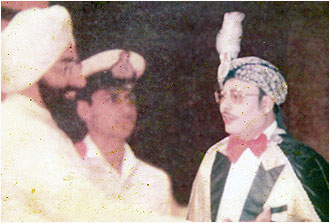 With His Highness Hon'able President Of India Gyani Zail Singh in Delhi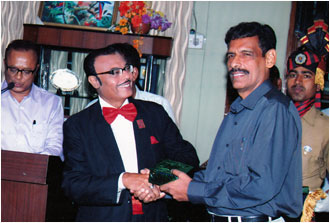 Award giving ceremony of Kolkata Police by Hon'ble Commissioner of Police, Kolkata, Sri Surajit Kar Purokaistho the present DG of West Bengal Police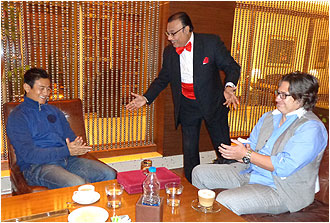 With the Indian Football Captain Sri Bhaichung Bhutia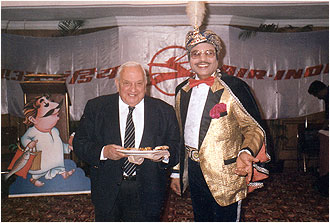 With Mr. Russi Mody , Joint Chairman of Indian Airlines and Air India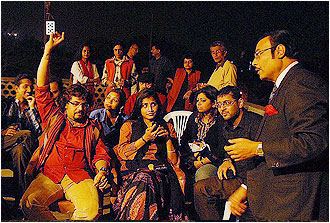 Stars of Tollywood under the magic spell of Prince Sil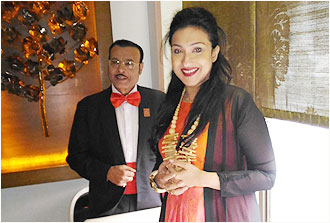 With Starred actress Rituparna Sengupta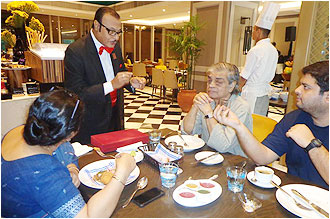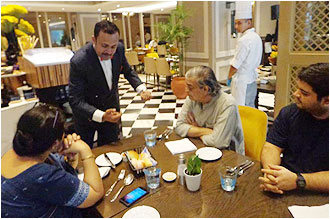 Sandip Ray and family enjoyed the close-up table magic performed by magician Prince Sil and Susmit Basu